---
Dr. Watts lights the pathway to your greatness.
Dr. Watts M.Y.N.T. Concepts:
Manage Yourself; Not Time.
S.O.I.G. It! (Intersection of people and smart technology)  Taking the pain away from leading and managing in the digital age. 
"People are Never the Problem - Refuse To Play the Blame Game!"   
"Swim "Sidewayz- Leading and Living in the Strong Currents of Life and Business".

 

"You are the Course, Now Teach It and Get What You've Always Wanted from life and business".
"Be an Agent for Change with S.O.A.R!"
To book Dr. Watts for your next  event, please call 855-DR-WATTS or email Info@WattsAssociates.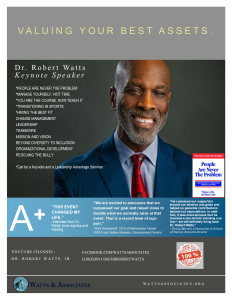 One Hour Presentation Fees:
Live Event: United States $5,000–$12,000
Virtual Event: United States $5,000 $8,000
Live Event: International $12,000–$20,000
Virtual Event: International  $ 5,000 - $10,000  
* Expenses not included.
* 20% discount for nonprofit, military veterans, differently abled, women and minority owned businesses.
Manage Yourself; Not Time
M.. Y. N. T.
Illuminating the Pathway to Greatness
Elaine Winter, EdD 
Director of Communication and Research 
Council of Logistics Management 
---
"I am grateful to Mike Reagan for "discovering" you.  The Personal Development track is always well received at our conference.  I think that our members crave something to balance the vast amounts of technical knowledge they assimilate at our conference. They are looking for something to make them "a better person." Thank you for helping them to find that information in your session."
Doris A. Richard-Davis
Department of Veteran Affairs 
Medical Center 
---
"The African American Employment Program would like to thank you for joining us in celebrating Black History at the Veterans Affairs Health  Care System.  Your inspiring message touched many and we are hoping that you would come again."
Debbie Madeley
Development Director at North Subkurban YMCA
---
Dr. Watts was the Keynote Speaker at the Kishwaukee Family YMCA Community Awards Dinner in 2017, our biggest fundraiser of the year. Dr. Watts completely drew in our audience with his story of early childhood struggles that eventually led to success thanks to early mentors, some of which were from the Y.
The statement that echoed and resonated with donors was something like (forgive me Dr. Watts if I have this wrong but I, too, was moved), "you want to know what the impact of your donations to the YMCA? Well, you're looking at one! I'm here today because of people like you who cared." Every year at the gala we had a donor come forward to match donations given that night.
The evening of Dr. Watts presentation, we achieved the highest giving level of any gala! Further, he came a day early to speak to our afterschool children and made time to meet our stakeholders. Dr. Watts is a class act who listens to the message you need to share and delivers in a truly authentic manner.
Kim Person 
Marriage Family Therapist| Professional Trainer
---
"Dr. Watts is a dynamic speaker who captivates the attention of everyone in the entire room. He is also a teacher, trainer, and excellent coach who coached  me into making an important business decision."