Dr. Watts: Informative, Exhilarating and Electrifying!
Dr. Watts' presentations are designed to the client's needs.
Dr. Watts Breakthrough Concepts:
"People are Never the Problem - Refuse To Play the Blame Game!"   
Manage Yourself; Not Your Time.
"Swim "Sidewayz- Leading and Living in the Strong Currents of Life and Business".

 

"You are the Course, Now Teach It and Get What You've Always Wanted from life and business".
"Be an Agent for Change and S.O.A.R!"

Performance Management Never Felt So Good - SOIG is taking the Pain Away!  
To hire Dr. Watts to make a presentation at your next event, please call 855-DR-WATTS or email Info@WattsAssociates.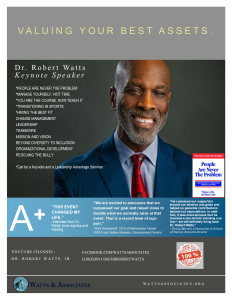 One Hour Presentation Fees:
Live Event: United States $10,000–$15,000
Virtual Event: United States $7,000 $10,000
Live Event: International $25,000–$35,000
Virtual Event: International  $ 8,000 - $10,000  
*20% discount for nonprofit, military veterans, differently abled, women and minority owned businesses.